2023 Ford F-150 Raptor for Sale in Wilbraham, MA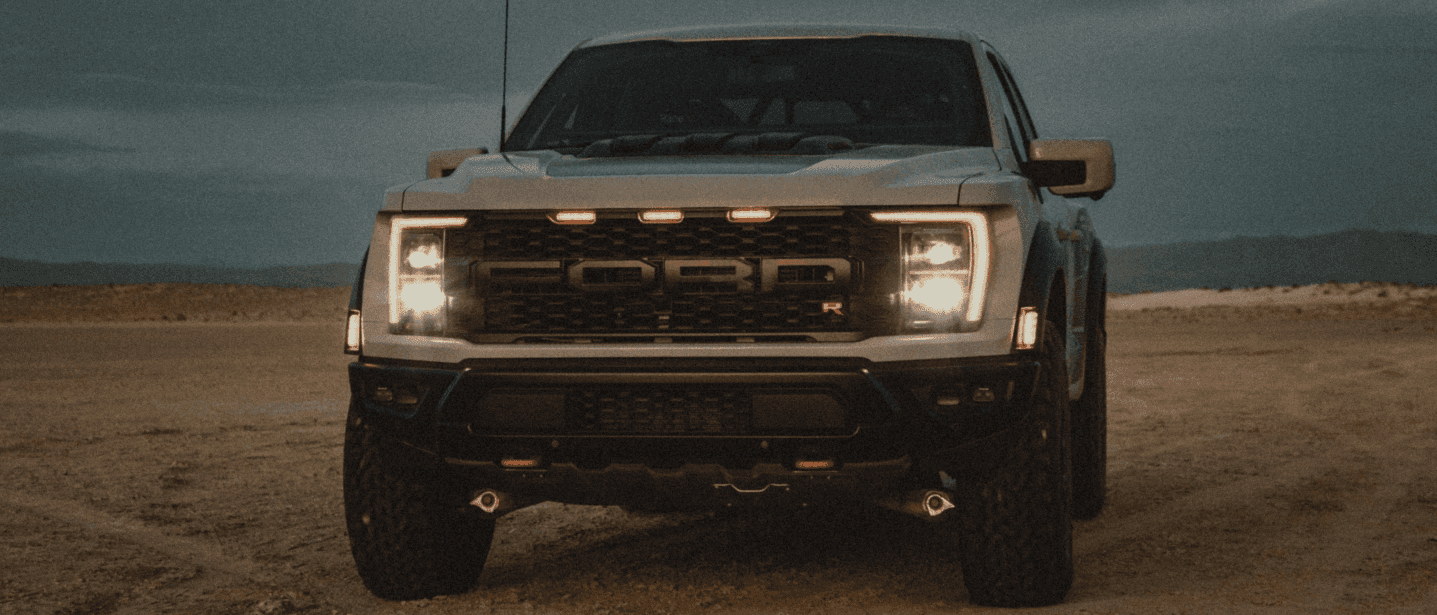 Overview
The original Ford F-150 Raptor shook the truck world when it debuted more than a decade ago. Each successive generation has delivered more power and capability. In keeping with this tradition, Ford is launching a performance pickup like no other, the 2023 F-150 Raptor R.
Based on the current Raptor, the Raptor R takes its engine from the legendary Mustang Shelby GT500 to provide a driving experience never before offered in a pickup. Full details about this supertruck will be available closer to the start of production (late 2022). In the meantime, here's a preview of the Raptor R's significant features.
Raptor R Powertrain
Underneath the hood will be a supercharged 5.2-liter V8 producing 700 horsepower and 640 lb.-ft. of torque. This potent powerplant initially saw duty in the GT500 but has been retuned to maximize off-road performance and the specific requirements of a truck, such as improved low-end torque. Other engine adjustments include a reworked intake for improved airflow and a deeper oil pan for better protection while driving on steep grades.
A ten-speed automatic transmission connects the engine to the standard four-wheel drive system. The Raptor R also has a unique dual exhaust with a controllable active valve system. The driver can select Normal, Sport, Quiet, or Baja, depending on the surroundings and individual preferences. Plus, a single mode can be stored and accessed via a steering wheel-mounted "R" button.
Suspension and Off-Road Capability
Keeping the power of the Raptor R's supercharged engine in mind, Ford engineers redesigned the truck's suspension to support expansive off-pavement adventures. These efforts are accomplished through a more robust front axle, 24-inch coil springs, and other ruggedized components. Also helping with capability and ride quality are Fox live valve dampers with height sensors for real-time adaptive suspension tuning. 13-inch front and 14.1-inch rear wheel travel are also built into the Raptor R for confident journeys over rocks and sand. Standard 37-inch tires and a 13.1-inch ground clearance reinforce the truck's abilities.
Exterior Styling
Among the distinctive exterior elements of the Raptor R is a one-inch taller power dome on the hood. This differentiates the R from the regular Raptor and helps pull warm air away from the engine compartment to maximize performance. But this powerful pickup is still a Raptor, so iconic elements like the broad F O R D grille and black fender flares will be carried forward. At the same time, Code Orange "R" badges on the hood, grille, and tailgate will announce that isn't an ordinary F-150 Raptor. The R will also get an exclusive graphics package across the rear fenders to signify the truck's off-road capabilities.
Interior Features
Inside the Raptor R there will be Recaro seats covered in black leather and Alcantara suede; the upholstery has been designed to capture elements of the bold exterior while providing extra grip during spirited driving. Also unique to the Raptor R cabin will be tri-axial weave carbon-fiber accents along the doors, media bin door, and upper elements of the instrument panel.
Infotainment Technology
The Raptor R is going to have a standard 12-inch touchscreen as the centerpiece of Ford's SYNC 4 infotainment system. Its features will be smartphone connectivity (Android Auto and Apple CarPlay), Bluetooth, and Over-the-Air (OTA) updates for quick and convenient upgrades.
We appreciate your interest in our inventory, and apologize we do not have exactly what you're looking for at this time. Please fill the form out below to let us know what you're looking for, or, please call us at 413-241-7658.