2022 Ford E-Transit for Sale in Wilbraham, MA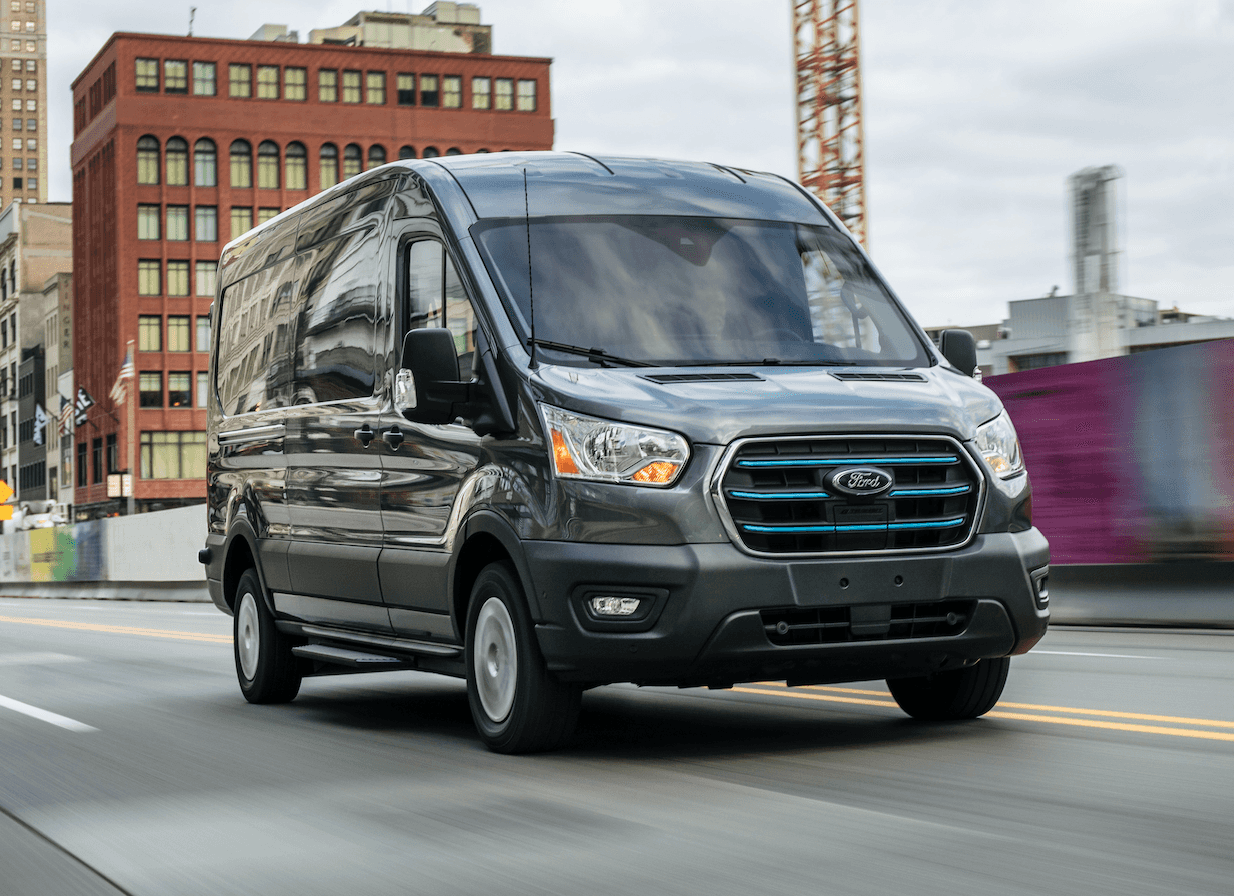 Overview
While Ford Transit utility vans are a common sight, you may not have heard about the all-new electric variation for model year 2022 called the E-Transit. Like its gasoline-exclusive counterpart, the U.S.-assembled E-Transit is available in three lengths (regular, long, and extended), three roof heights (high, medium, and low), and three body styles (cutaway, chassis cab, and cargo). The major difference, of course, is that the E-Transit gets a rechargeable zero-emissions powertrain.
This electric powertrain eliminates fuel-ups at the gas station and routine oil changes, allowing businesses to decrease their carbon footprint while reducing operating costs. Plus, while it's utilitarian in nature, the E-Transit gets a considerable array of modern technologies and driver-assistive features. This variant of the Ford Transit is a major development since it's the first domestic electric work van to be manufactured by a full-line automaker. Read on for details on this groundbreaking vehicle.
Configurations, Power Source, and Utility
Three versions of the rear-wheel-drive, two-passenger '22 E-Transit are sold: Cutaway, Chassis Cab, and Cargo Van. All are offered in medium, long, and extended body lengths, but since the Cargo Van has a work/storage area, you can choose between either a low, medium, or high roof, depending on your needs. Each comes with a single electric motor that produces 266 hp and 317 lb.-ft. of torque. With the low-roof Cargo Van, this electric motor gets an estimated 126 miles of range. The '22 E-Transit's 67-kWh battery lets it travel up to 126 miles on a single charge. With Ford Pro Charging (a charging plan that's supported by the largest public charging network in North America), you'll have no issue finding locations to juice your '22 E-Transit.
Cargo Capacities
Since there are different Cargo Van configurations, the storage dimensions in each are quite different. For instance, the regular length model with the low roof has a maximum cargo volume of 280.9 cubic feet, but with the medium roof, it gets 358.7 cu. ft. The long model with the low roof offers 311.9 cu. ft., while the long model with the medium roof delivers 400.5 cu. ft. Opting for the long model with the high roof gets you 453.4 cu. ft., but if you really want to capitalize on space, the extended model – which is sold exclusively with a high roof – provides 536.4 cu. ft. of total cargo space.
The regular-length Cargo Van with the low roof has a maximum payload capacity of 3,880 lb. The extended-length Cutaway model with the low roof boasts a 4,428 lb. maximum payload capacity, while the extended-length low-roof Chassis Cab can carry up to 4,390 lb.
Cutaway and Chassis Cab Features
The Cutaway and Chassis Cab models share some basic features, like frame-rail extension adapters, automatic headlights, keyless entry, and two 12-volt power outlets. They also get a few more advanced items, such as automatic high beams, rain-sensing wipers, Ford's SYNC 4 infotainment system (12-inch touchscreen, voice recognition, and automatic software updates), and Ford Pro E-Telematics (a business management system that lets you monitor your vehicle's charge status and helps you locate and pay for public charging stations). Several driver-assist features are standard as well: pre-collision assist with automatic emergency braking, forward collision warning, post-collision braking, and lane-keeping assist.
Among the options offered are power-adjustable short- or long-arm side mirrors with turn-signal indicators (long arm mirrors are eligible for heating), fog lights, wiper-activated headlights, a front overhead shelf, regular cruise control or intelligent adaptive cruise control (intelligent ACC adjusts for speed limit changes), navigation, traffic sign recognition, a six-speaker sound system, satellite radio, and HD radio. But the most compelling option that will no doubt make the lives of contractors easier is Pro Power OnBoard, a 120-volt generator that can charge power tools and other electric equipment without the need for an inverter.
Cargo Van Features
The Cargo Van has a built-in cargo area, bringing with it a different set of features. While it gets many of the Cutaway's and Chassis Cab's standard amenities, the Cargo Van differs with its 180-degree opening 50/50 hinged rear door and sliding passenger-side door. The options mentioned above are still offered, but the Cargo Van qualifies for additional add-ons. Those are running boards, a 253-degree opening door, a 60/40 hinged passenger-side door (low roof model only), a keyless entry keypad, Intelligent Access (doesn't require physical use of the key fob), push-button ignition, a surround-view camera system, reverse brake assist, and blind-spot assist (if blind-spot assist is ordered, reverse and side sensing systems and enhanced active park assist also become available).
We appreciate your interest in our inventory, and apologize we do not have exactly what you're looking for at this time. Please fill the form out below to let us know what you're looking for, or, please call us at 413-241-7658.